Chicken and Broccoli Skillet Bake.
Doesn't this just sound so cozy and delicious?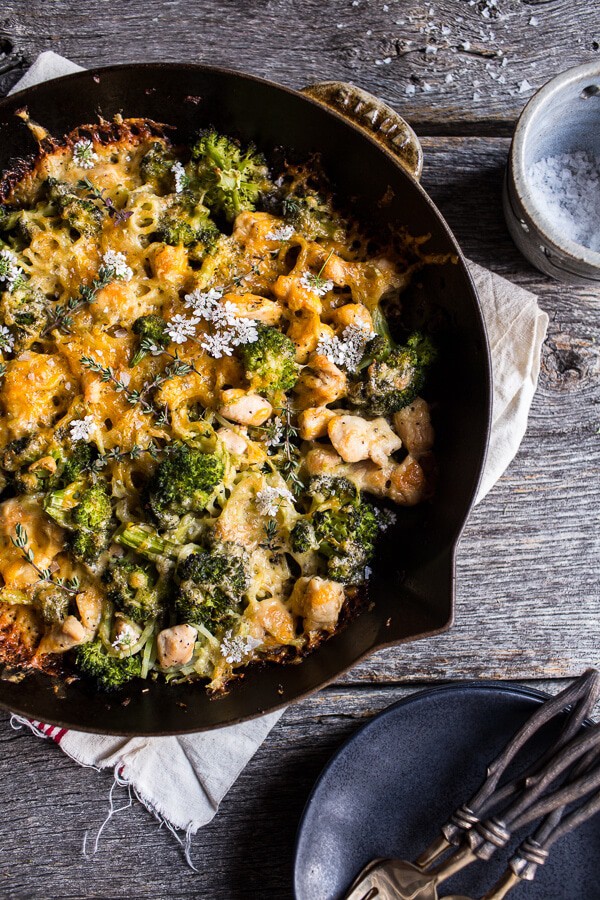 Today I am sharing an amazing recipe from my friend Ali's cookbook. Some of you may already be familiar with Ali's blog and book, both are aptly named Inspiralized, and honestly, this book is the best! So creative and filled to the brim with healthy yet satisfying recipes. Like if you are looking for new ways to use up all those end of summer veggies, this is your book! You will see veggies in a whole new light.
No joke.
You need this book in your life.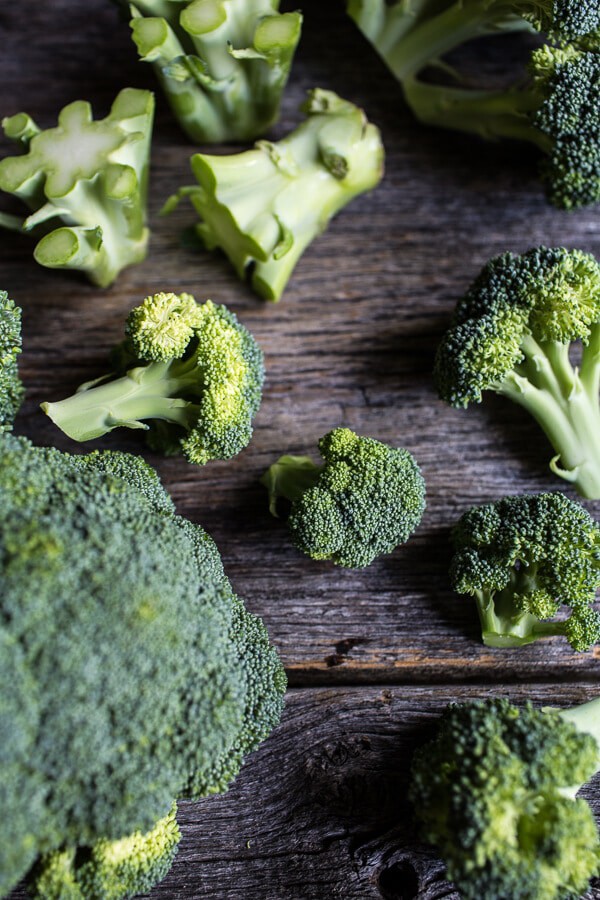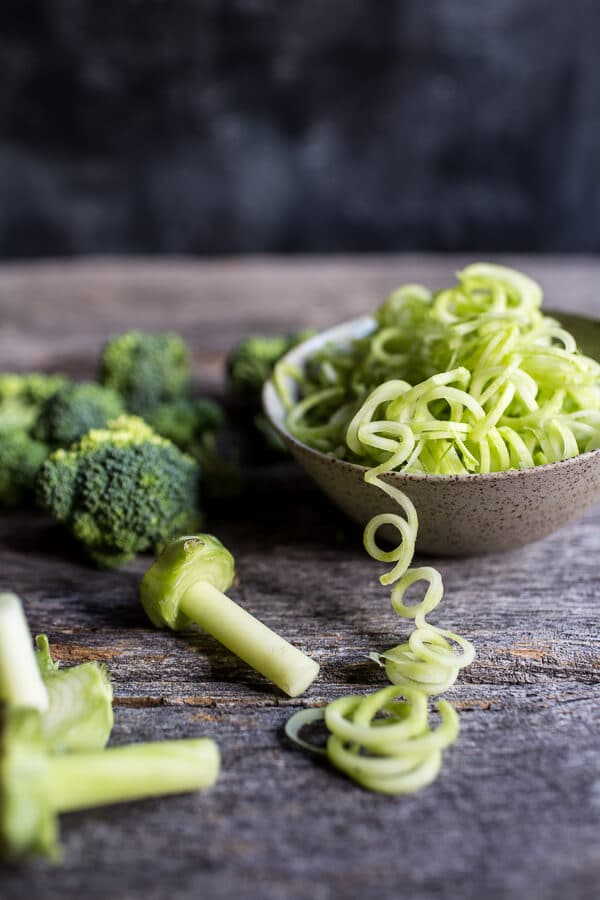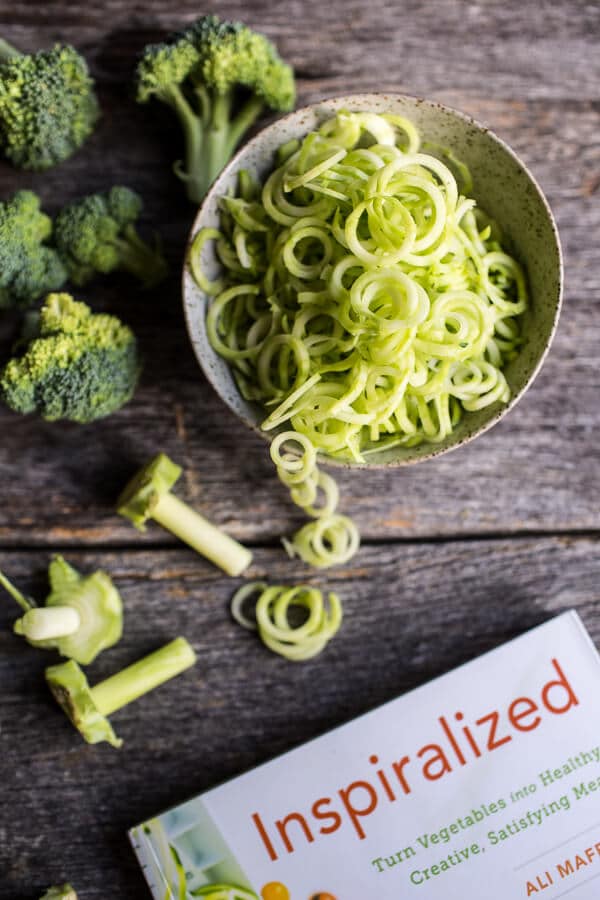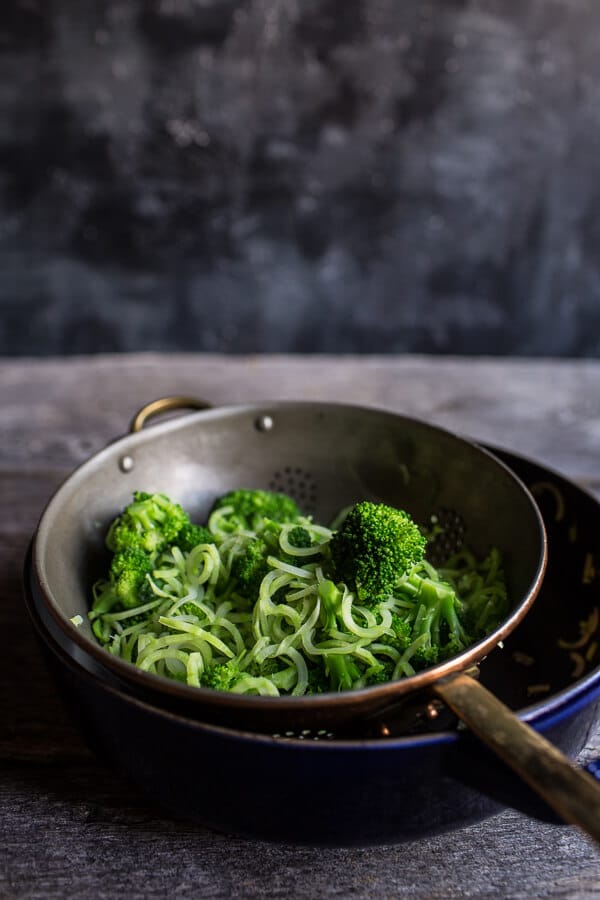 Growing up, one of my favorite dishes my dad would make us was a broccoli cheddar and rice dish. It was always so comforting, it's still the best. So when I saw the recipe for chicken and broccoli skillet bake with not only cheddar, but havarti too, I was sold. Done and done.
Here's the really cool thing about this recipe, not only does it use the broccoli florets, but it also uses the stems. I cannot tell you how many broccoli stems I have thrown out over the years. It turns out that the stems are actually really delicious! What Ali does is to spiralize the broccoli stems into pasta, yes, pasta!! I mean, how fun is that?!?
Aside from being fun, spiralizing the broccoli also breaks down the stems into a much smaller form making them far tastier and easy to chomp on. And when mixed with the broccoli florets, chicken and cheese? It's the perfect light and healthy dinner for any time of the year.
Score!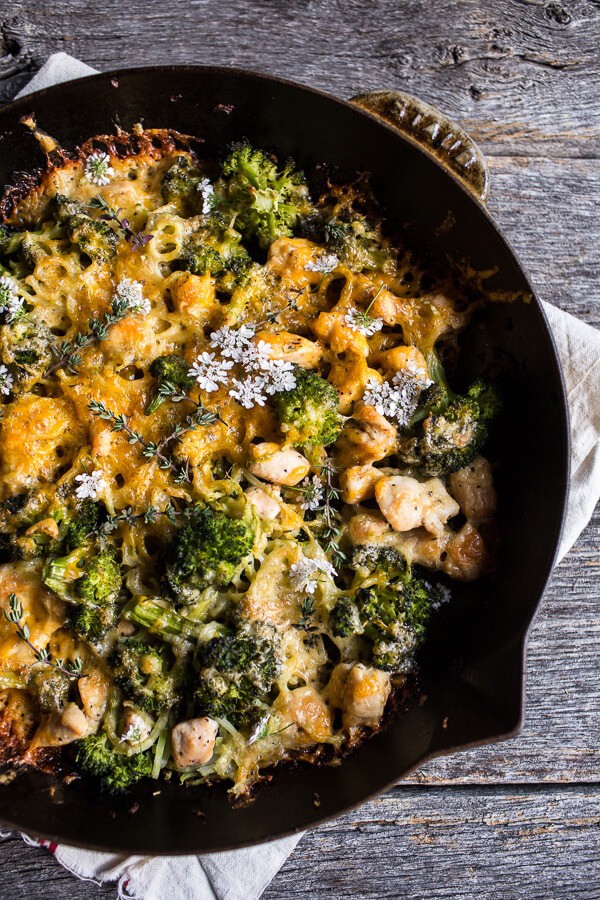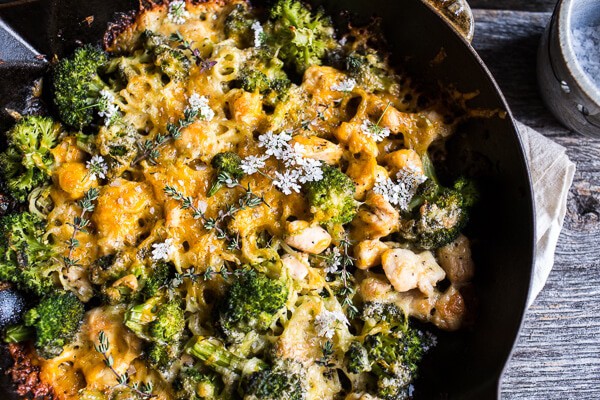 If you're looking to make the dish a little heartier, I highly recommend mixing in some quinoa or white or brown rice. There's just something I LOVE so much about rice with broccoli and cheese.
Ali also recommends adding a sweet potato to the mix, which I also think would be so great! Totally trying that next time!
Adding a few hard boiled eggs at the end is something my dad would always do with his dish. Hard boiled, fried or poached would all work. Totally one of my favorite things to this day!
One of best parts about this recipe is how quick and easy it is to make. Just a handful of simple ingredients and a skillet. Perfect for busy weeknights and SO perfect for these cooler nights some of you might be starting to experience? Or maybe not… my point is that this is healthy comfort food at its best, so it's perfect for one of those first cooler days of fall…can you feel my excitement that fall is almost here?
Major fall thoughts on the brain!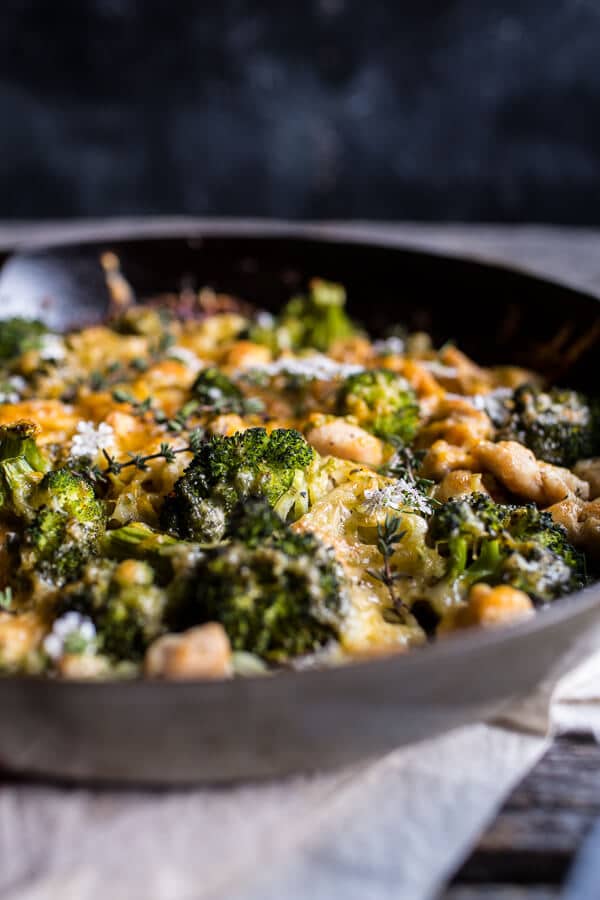 And speaking of fall, I'm pretty sure I met my new best favorite person ever on Tuesday. See, I was having this little video shoot (no big deal or anything, but… you guys might just be getting a barn video tour coming your way soon…) and I met the kindest women ever. I mean, everyone who came on Tuesday was incredibly kind and I fell in love with them all, but MC? MC shared my love of fall, Halloween and all the holidays (but Halloween the most…that's MC's all-time favorite holiday!). I'm quite positive I could talk with her for hours and hours and we would have the BEST time. She also just puts you in a happy mood… Love That!
Every single one of the women who came up for this shoot were so incredibly kind. I cannot wait to share a bit more about the day with you guys. And um, those final barn photos you all have been waiting so patiently for…definitely coming soon!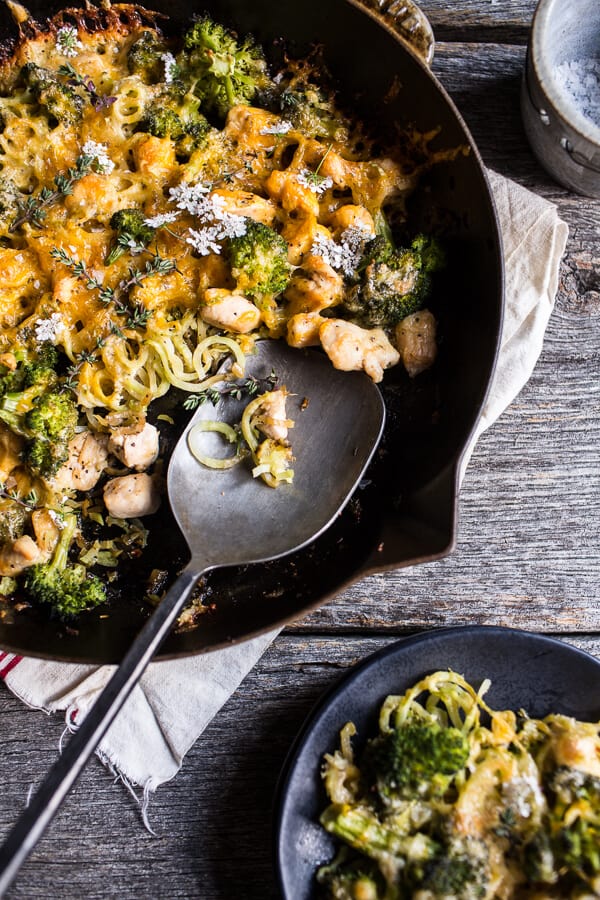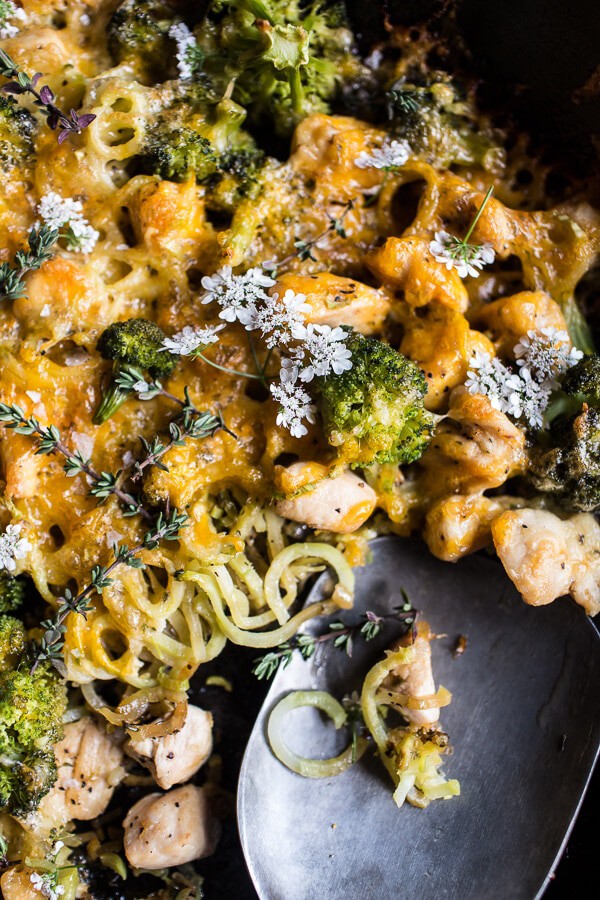 Ok, but back to this chicken and broccoli skillet bake.
Ali has kindly offered to give one reader a copy of her book and a brand new spiralizer! I know, isn't she just the nicest? Here's the deal, if you want a chance to win a copy of the book and a brand new spiralizer, simply leave a comment on today's post answering this question:
What is one recipe you are dying to try that involves spiralized veggies?
And that's it, then you will be entered! I will email the winner in a week! Until then, everyone should be making this recipe for dinner ASAP.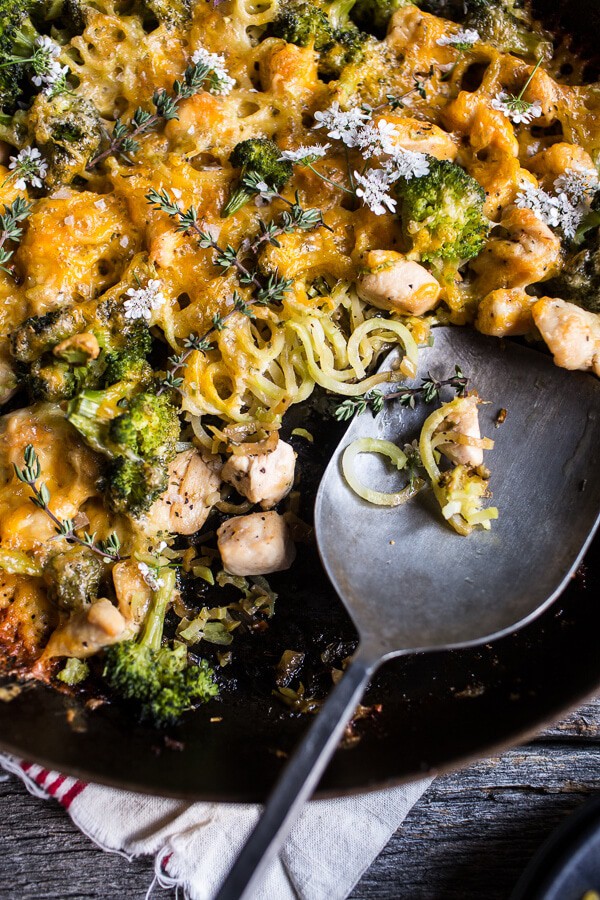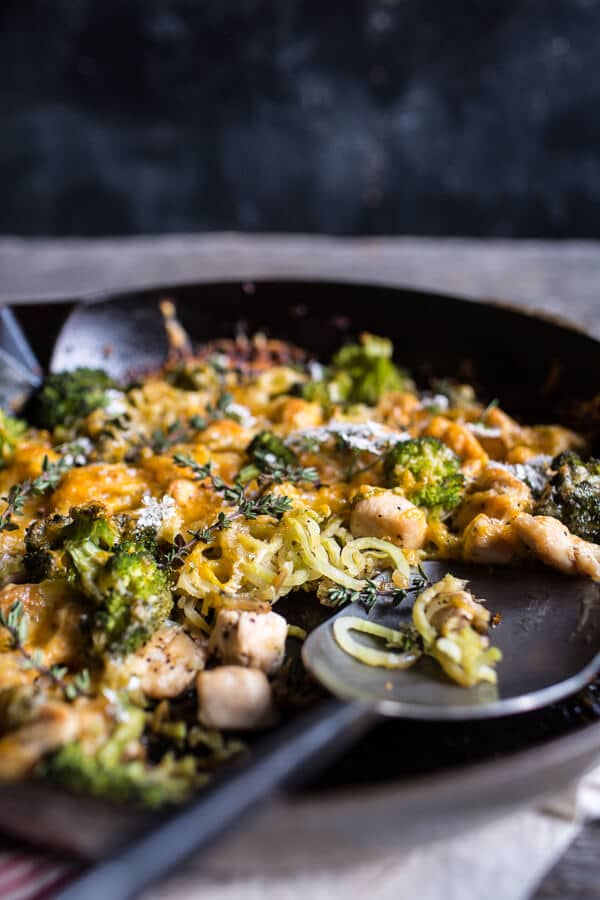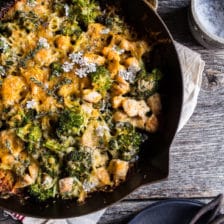 Nutritional information is only an estimate. The accuracy of the nutritional information for any recipe on this site is not guaranteed.
The Recipe
Chicken and Broccoli Skillet Bake.
By halfbakedharvest
Course: Main Course
Cuisine: American
Keyword: bake, broccoli, chicken, skillet
Doesn't this just sound so cozy and delicious?

Prep Time 20 minutes
Cook Time 20 minutes
Total Time 40 minutes
Servings 4 Servings
Calories 466 kcal
Ingredients
3 tablespoons olive oil
1 pound boneless chicken diced
salt + pepper to taste
2 in large broccoli heads florets removed, stems spiralized noodles
2 cloves garlic minced or grated
1/2 cup diced white onion
1/2 cup low-sodium chicken broth
1/4 teaspoon dried thyme
1/4 teaspoon dried parsley
1/4 teaspoon onion powder
1 cup shredded sharp cheddar cheese
1/2 cup shredded havarti cheese
Instructions
Preheat the oven to 400 degrees F.

Place an oven safe 12-inch skillet over medium heat and add 1 tablespoon olive oil. When the oil is hot, add the chicken and season with salt + pepper. Cook for 3-5 minutes, stirring once or twice until the chicken is browned and cooked through. Remove the chicken + any juice from the skillet and add to a plate.

Bring a pot of salted water to a boil. Add the broccoli florets and the broccoli noodles, cook until the florets are tender, about 2-3 minutes. Drain.

Using the same skillet from the chicken, heat the remaining 2 tablespoons olive oil over medium-high heat. When the oil is hot, add the garlic and onion, cook for 5-8 minutes or until the onion is very soft. Whisk in the chicken broth and stir until the mixture thickens, about 2 minutes. Add the thyme, parsley and onion powder. Stir the cooked chicken and the broccoli florets + noodles into the mix and toss to combine. Remove from the heat and sprinkle the cheese overtop.

Cover with foil and bake for 25 minutes or until the cheese is melted and bubbling. Remove the foil and broil until the cheese is lightly brown, about 1-2 minutes. Serve!
Recipe Notes
*To make this dish a little heartier, I love adding white or brown rice or even quinoa to the mix. I also LOVE topping this dish with eggs. Fried, poached or hard boiled will all work *Recipe from the [Inspiralized Cookbook | http://www.amazon.com/gp/product/0804186839/ref=as_li_tl?ie=UTF8&camp=1789&creative=9325&creativeASIN=0804186839&linkCode=as2&tag=inspiralized-20&linkId=PBFJRBEDD5VGXU7L] by Ali Maffucci.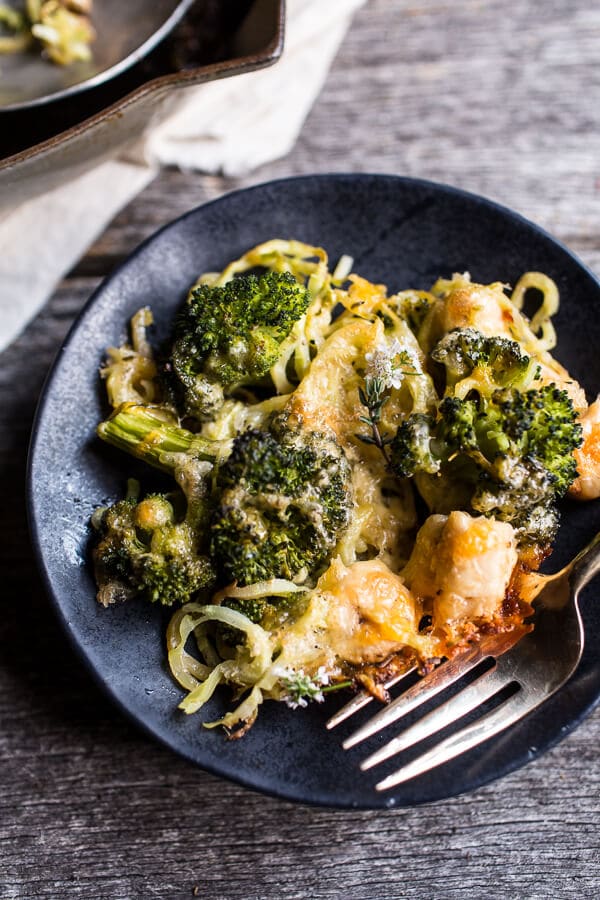 Mmm, k?? Cool! 🙂