Bourbon Sweet Potato Casserole with Sweet 'n' Savory Bacon Pecans.
Switching things up this Thanksgiving with this Bourbon Sweet Potato Casserole with Sweet 'n' Savory Bacon Pecans. The classic sweet potato casserole we know and love, but topped with sweet and savory bacon pecans. These sweet potatoes are buttery, hinted with cinnamon, and lightly sweetened. The pecan topping is just a touch spicy, perfectly sweet, herby, and a little salty too. When baked together the potatoes and topping create the perfect balance and make for the BEST sweet potato casserole. Make these ahead of time for an easy holiday side that everyone will love.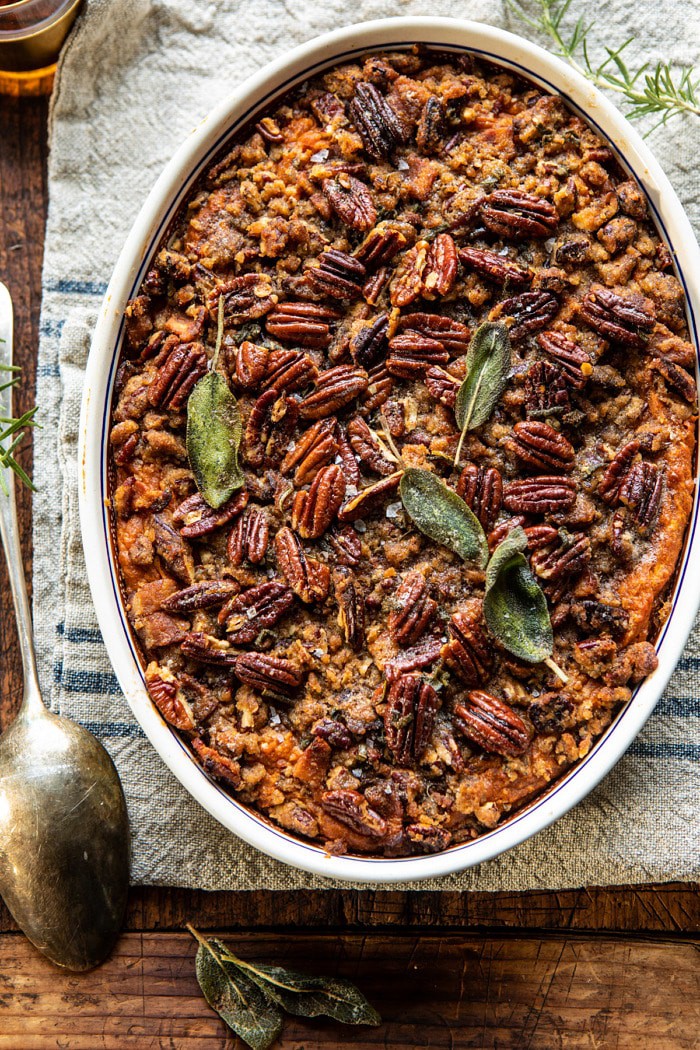 It's the second week of November and I very much have Thanksgiving on my mind. Anyone else?
It's been a little tricky to get my menu fully planned, photographed, and written up in between traveling for HBH Super Simple. But I'm excited to finally say that I will be sharing my full menu this week! Are you guys in planning mode? Hoping so, because I have some good recipes coming, and it all starts with this casserole.
I'm sure I have said this before, but when it comes to Thanksgiving I really love a traditional menu. Herby roasted turkey, buttery mashed potatoes, popovers, vegetable sides, and of course, sweet potato casserole. Some of you may be surprised to hear this, since I love to share all kinds of different recipes, but when it comes to both Thanksgiving and Christmas, I'm all about tradition. And the older and more traditional the better.
The classics keep things simple and perfect every time. It's why we look forward to the holidays so much. All the traditions!
That said, every year I try to create a few new dishes that are spins on the classics. They still feel like the classics, just updated a bit. My brothers only care about the turkey, mashed potatoes, and rolls, so I keep those basic (but good). But when it comes to the vegetables? I have some room to play with, and have a little fun.
Enter this sweet potato casserole. It's just like my grandma's sweet potatoes, but with a sweet, savory, and salty topping…that everyone loves.

Let's talk about the sweet potatoes…
Like most sweet potato casseroles, this bourbon sweet potato casserole is so simple and easy to make. The longest part of the process is roasting the potatoes. But nothing is hard and you might even have all the ingredients on hand right now.
So…start with the sweet potatoes. Yes, you can buy canned sweet potatoes, but I highly recommend roasting fresh potatoes for best flavor and color. If you have an instant pot, you can cook the potatoes quickly in there. If not, go the oven route. It's my preferred method.
Once the potatoes are soft, peel away the skins (then use them to make these sweet potato skin chips) and then mash. Then add in a touch of brown sugar, vanilla, cinnamon, butter, and a splash of bourbon, and that's it. This is my grandma's base recipe and it never fails. Simple, but so delicious, and not overly sweet, which I think is really nice.
Question: are you a sweet or savory, sweet potato casserole person? I prefer a savory casserole…with just a touch of sweetness!

Now about those bacon pecans…
While the potatoes are roasting, start working on the bacon pecans.
Oh, these bacon pecans. Basically, this is a topping of candied bacon with pecans, and it's incredibly delicious. Sweet and savory with a little crunch from the pecans, and saltiness from the bacon. I added sage and a little rosemary to bring in some savory flavors and balance out the sweetness. These herbs may sound like an odd addition but go with me on this because it's so GOOD.
Also, if rosemary isn't your thing, or you're worried it may overpower the other flavors, then simply leave it out. My dad's not the biggest rosemary fan. He sometimes complains that it's overpowering. Use your best judgment here and go with your own personal taste.

Put it all together…
Last up, layer the topping over the sweet potatoes and bake. It's simple, nothing too fancy, and so EASY. While this bakes, your house will smell incredible, just like Thanksgiving should. You'll soon find out that every bite is just as delicious as it smells.
These potatoes are sweet and buttery and the topping is crunchy. It's the sweet potato casserole your Thanksgiving table needs. Promise.
And finally, you can easily prepare this ahead of time, and yes, it travels well too. If you're on sidedish duty this Thanksgiving, this is your dish!

If you make this bourbon sweet potato casserole with sweet 'n' savory bacon pecans, be sure to leave a comment and/or give this recipe a rating! Above all, I love to hear from you guys and always do my best to respond to each and every comment. And of course, if you do make this recipe, don't forget to tag me on Instagram! Looking through the photos of recipes you all have made is my favorite!

Nutritional information is only an estimate. The accuracy of the nutritional information for any recipe on this site is not guaranteed.
The Recipe
Bourbon Sweet Potato Casserole with Sweet 'n' Savory Bacon Pecans.
By halfbakedharvest
The classic sweet potato casserole we know and love, but topped with sweet and savory bacon pecans
Prep Time 20 minutes
Cook Time 1 hour 30 minutes
Total Time 1 hour 50 minutes
Servings 8
Calories 323 kcal
Ingredients
4 medium sweet potatoes
3/4 cup brown sugar
2 teaspoons vanilla extract
1 teaspoon cinnamon
1/4 cup whole milk
4 tablespoons salted butter, melted
2 large eggs, beaten
2 tablespoons bourbon (optional)
Sweet 'n' Savory Bacon Pecans
4 slices thick-cut bacon, chopped
3/4 cup brown sugar
1/3 cup all-purpose flour
1 1/2 cups raw pecans roughly chopped
6 tablespoons salted butter melted
1/2-1 teaspoon cayenne pepper using more or less to taste
2 tablespoons fresh chopped sage
1-2 teaspoons fresh chopped rosemary (optional)
Instructions
1. Preheat your oven to 400 degrees F. Poke a few holes in the sweet potatoes and bake for 1 hour or until soft and tender. When the sweet potatoes are cooked, slice them in half and allow to cool.

2. Meanwhile, make the bacon pecans. In a large skillet over medium heat, cook the bacon until crisp. Remove the bacon from the pan and drain onto a paper towel. In a medium bowl, combine the brown sugar, flour, pecans, butter, cayenne, sage, and rosemary (if using). Stir in the bacon.

3. Reduce the oven temperature to 350 degrees F. Peel the skins away from the flesh of the sweet potato. Add the sweet potatoes to a mixing bowl. Mash well. Mix in the brown sugar, vanilla, cinnamon, milk, butter, eggs, and bourbon until combined. Season with salt.

4. Spoon the sweet potato mixture into a 9x13 inch baking dish. Sprinkle the pecans evenly over top.

5. Transfer to the oven and bake for 35-40 minutes, until the pecans are golden. Serve warm topped with flaky sea salt.
Recipe Notes
To Make Ahead: Prepare the casserole through step 4. Cover and store the assembled casserole in the fridge for up to 2 days. To bake, remove the casserole from the fridge while the oven preheats, then bake as directed. 
To Make Gluten Free: Use an equal amount of your favorite gluten free flour blend in place of the all-purpose flour. I recommend Cup4Cup gluten free flour.