Bourbon Peach BBQ Baked Beans.
It doesn't get much more southern than these bourbon peach BBQ baked beans.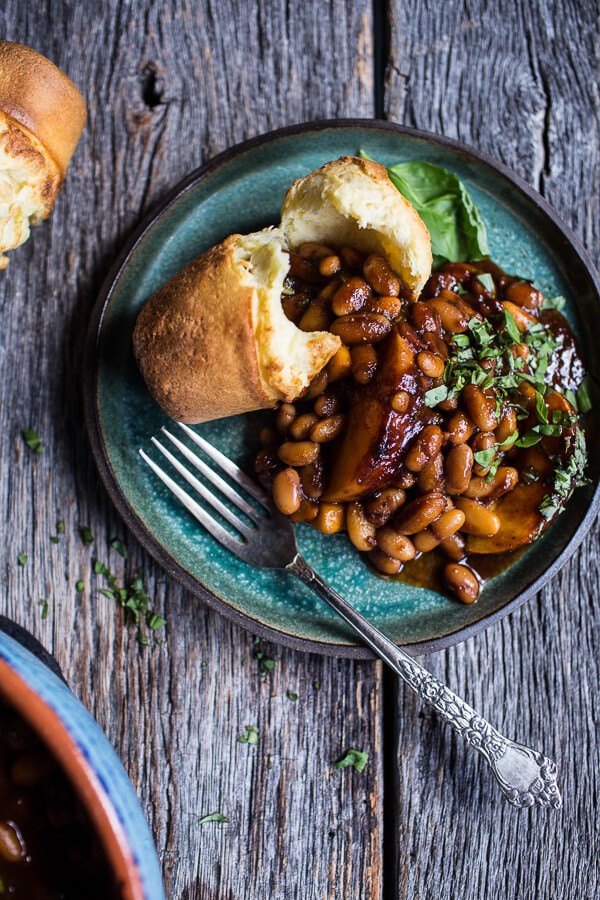 Peaches, bourbon, beans? YES!!
Southerners, you sure do know good food! <–truth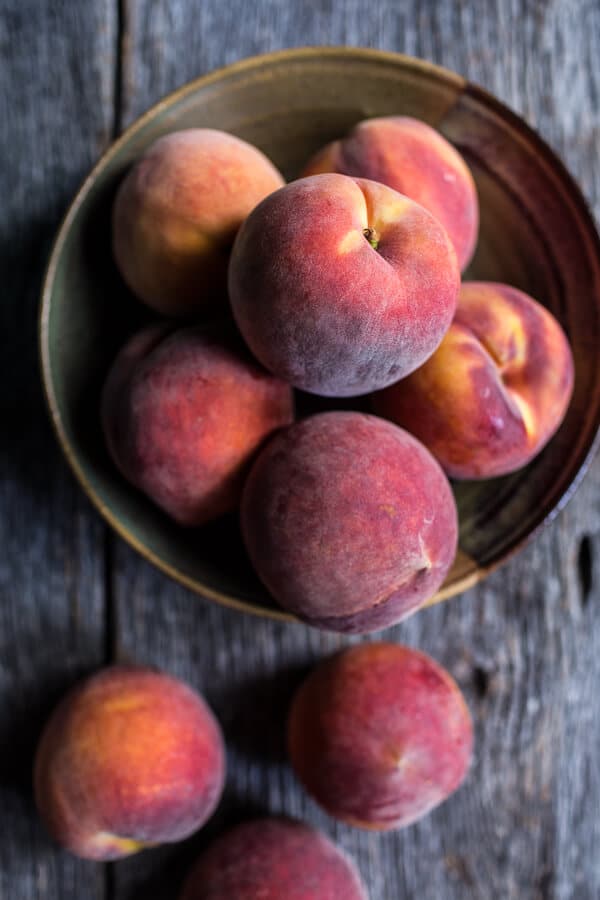 I know it may seem odd to add peaches to your beans, but, but, but, I promise it is not.
No babbling today because I have this feeling that tomorrow I will be doing a lot of that (exciting news!).
PS. I am SO ready for Friday, are you?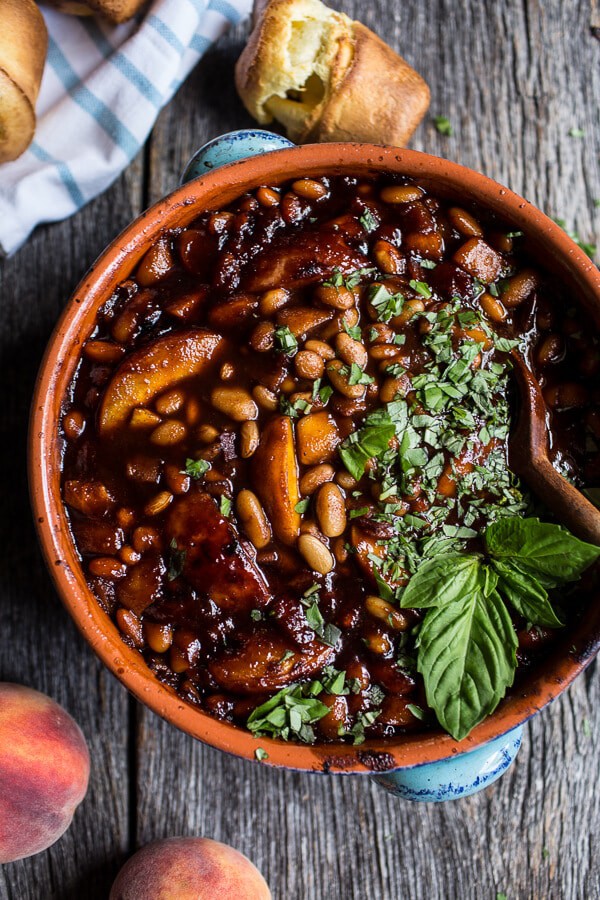 Baked beans are never something I thought I would be making. Sadly no one in my immediate family is into beans. I personally love them, but when it comes to making beans as a side dish to a family meal, beans were never an option.
That was until I heard my grandpa was coming to visit, Then I was like, "Oh my gosh, I get to make beans!! See, grandpa loves baked beans. If I recall correctly, he actually loves my Mimi's baked beans best (Mimi is my dad's mom, Grandpa is my mom's dad), but I don't have that recipe and I have had this idea for peach baked beans since the beginning of summer. So this was my chance, I was making beans!
And yes, I was pretty pumped.
PLUS the peaches have been so flipping good since the start of August. I pretty much could not wait to throw them into my beans.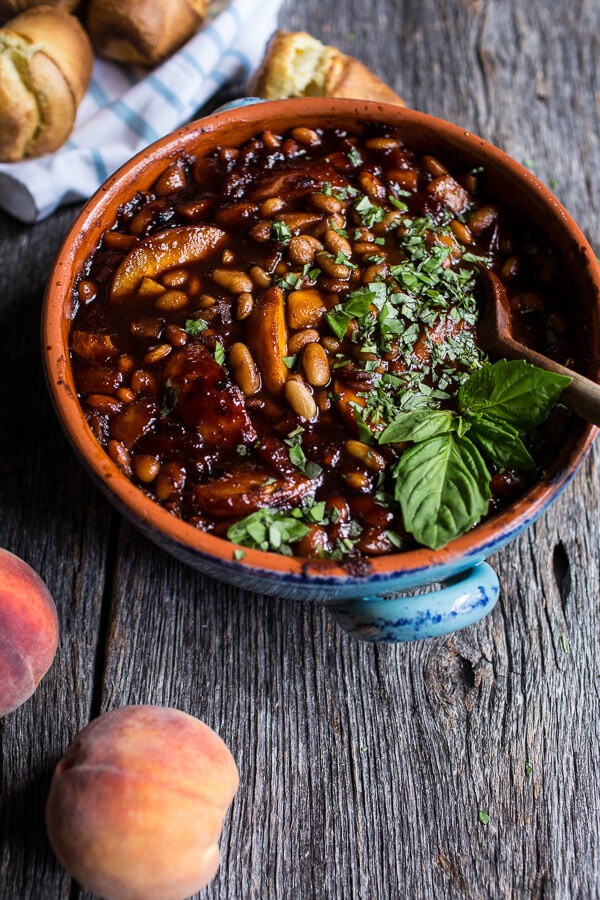 This recipe is really so simple and quick to throw together. You start out by cooking some bacon (ah huh) in a big ol dutch oven until they are crisp and perfect. From there you literally just add all the other ingredients to the dutch oven (bacon stays in) and continue to bake. I'd say a good 45 minutes until the sauce is bubbly and thickened.
Yum, right?
My grandpa thought so, and guys, so did my dad!! Yay!! I tried to get my mom to eat the beans by serving them with freshly made hot popovers. She ate the popovers (like three actually), but didn't even try the beans.
I mean, how lame is that???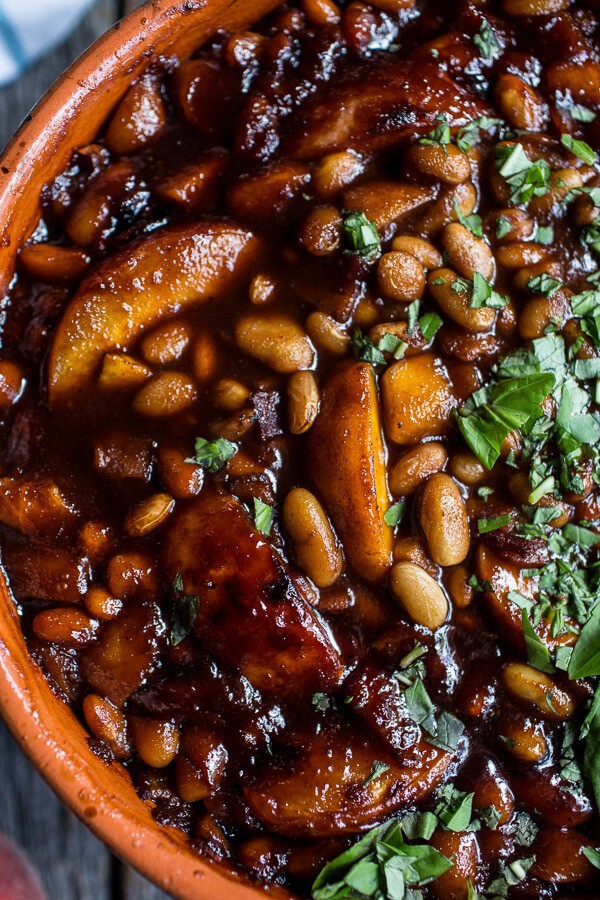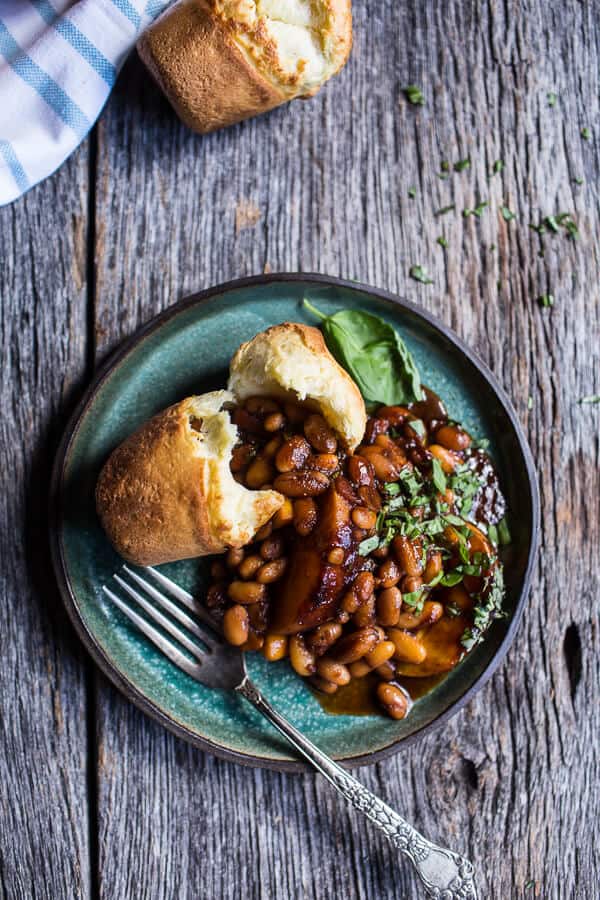 Oh but then I fed gramps a kind of spicy fruit salsa and I think I ruined his taste buds for the night. Thinking maybe not everyone is all that into the hot spices like my dad. However, I also think he may have gotten a red fresno seed. Thinking that maybe the second red fresno (with a few seeds still intact) was probably not my best decision for that salsa either.
Oops!
But hey, I served this pork and that was a HUGE hit all around…just without the (double) chili salsa.
So what did I serve for dessert??? Next week people. Next week.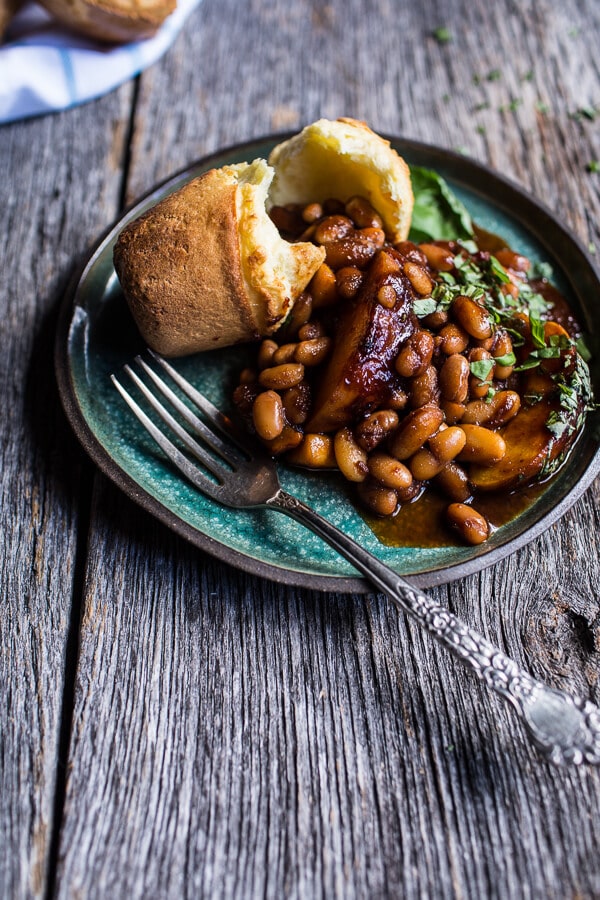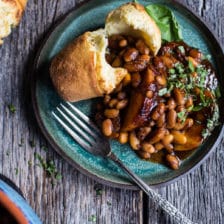 Nutritional information is only an estimate. The accuracy of the nutritional information for any recipe on this site is not guaranteed.
The Recipe
Bourbon Peach BBQ Baked Beans.
By halfbakedharvest
Course: Side Dish
Cuisine: American
Keyword: baked beans, bbq, bourbon, peach salsa
It doesn't get much more southern than these bourbon peach BBQ baked beans.
Prep Time 15 minutes
Cook Time 45 minutes
Total Time 1 hour
Servings 8 Servings
Calories 255 kcal
Ingredients
6 slices thick cut bacon chopped
2 (14 ounce) cans cannellini beans rinsed + drained
2 (14 ounce) cans pinto beans rinsed + drained
2-3 ripe peaches chopped (use 2 if peaches are big, 3 if they are small)
1 ½ cups your favorite BBQ sauce
½ cup pure maple syrup
1/3-1/2 cup bourbon
2 tablespoons balsamic vinegar (use this to your taste)
2 tablespoons grainy Dijon mustard
1-2 teaspoons chipotle chili powder
1 teaspoon smoked paprika
½ teaspoons salt + pepper
fresh basil for serving
Instructions
Preheat the oven to 350 degrees F.

Place an oven safe 3-5 quart Dutch oven or heavy bottom pot over medium heat. Add the bacon and cook until crisp, about 5 minutes. Remove from the heat. If there is a lot of fat in the pot, drain off all but 1 tablespoon. To the bacon, add the cannellini beans, pinto beans, peaches, BBQ sauce, maple syrup, bourbon, balsamic dijon mustard, chipotle chili powder, smoked paprika, salt and pepper. Give everything a good stir to combine.

Place in the oven and bake for about 45 minutes or until the sauce has thicken and is bubbly. Serve warm with fresh basil.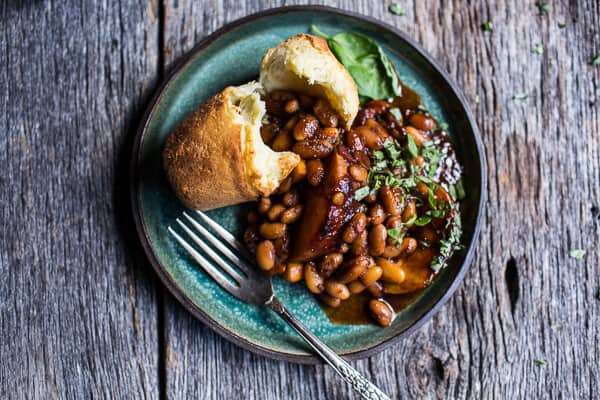 But really, these beans are the best. Totally a crowd pleaser.