BOO! Chocolate Peanut Butter Bars.
BOO! Chocolate Peanut Butter Bars. You don't need to be a professional baker to make these deliciously EASY homemade Halloween treats. These bars require no oven time, use just 6 pantry staple ingredients, are made without extra sugar, and take almost no effort to make. Best part? They're fun to make no matter what your age!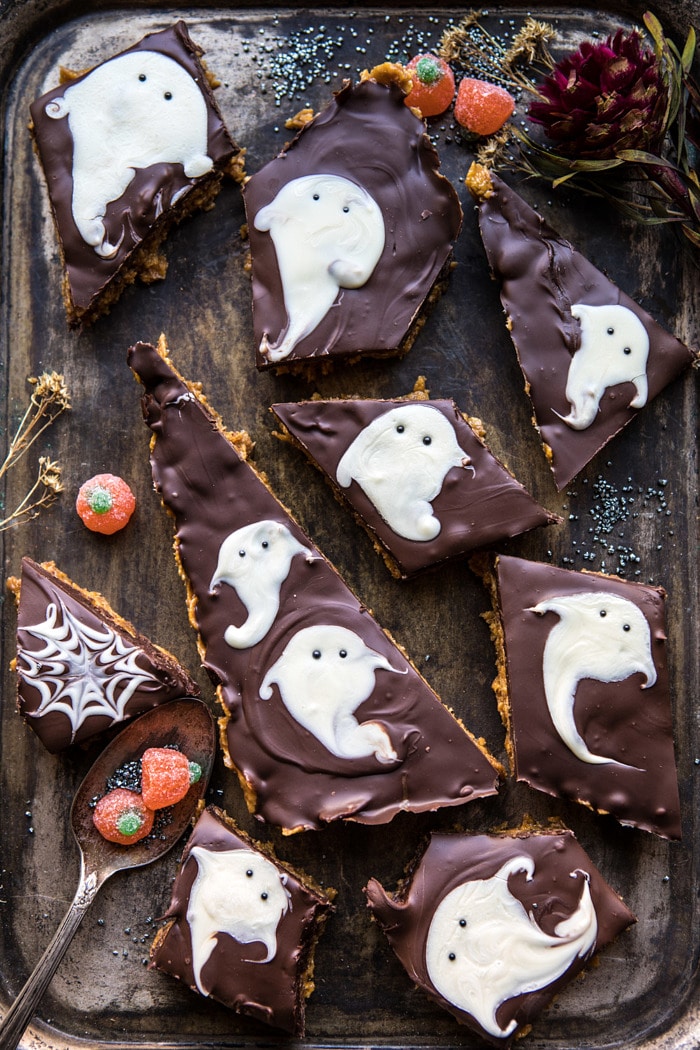 BOO! It's Friday, it's October, and that means I'm finally sharing some Halloween inspired treats.
You know what I love most about Halloween? No matter what age you are, it's an excuse to dress up, have fun, eat candy, and just let the kid in you shine for a day. For someone who's way too serious most of the time, this is so good for me. All month long I have so much fun being creative and making Halloween inspired treats, crafts, and of course, cocktails.
These bars are some of my favorites of the month for two reasons.
One, and most importantly, these bars are GOOD. Like so deliciously good. You all know I love the combo of chocolate and peanut butter. In fact I've been called out for using it too much…sorry, but not really because I love it!
Peanut butter and chocolate. Simple and Perfect.
Two, these bars are EASY. So, so, so easy. Easy enough that if you can make yourself a peanut butter sandwich, you can certainly make these bars. It's true.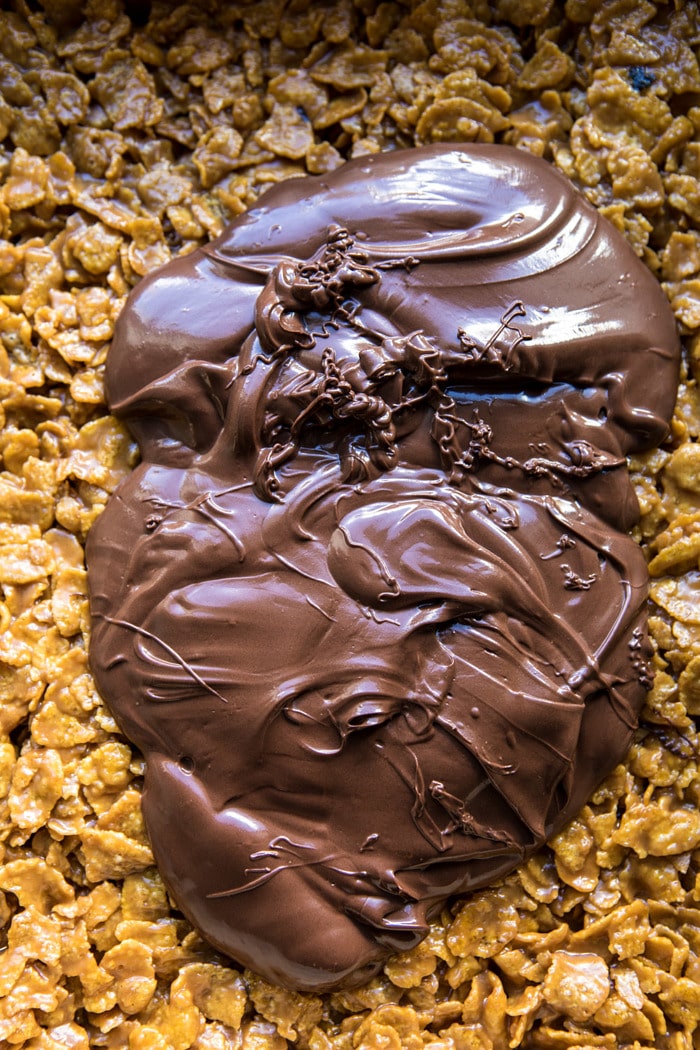 As mentioned, these are made using six pantry staple ingredients. Honey, maple syrup, peanut butter, chocolate, and white chocolate, that's it. Yep, no additional sugar.
To make the bar base, melt together the honey, maple, and peanut butter until smooth and creamy. Stir in the corn flakes and dump the mixture out onto a baking pan.
Now add a very thick, even layer of melted chocolate (you can use dark, semi-sweet, or milk, use you favorite!). Next, take some melted white chocolate (use high quality, trust me it makes a difference) and dollop it in teaspoon and tablespoon size right over the chocolate. Grab a skinny stick (I used the end of a skinny spoon) and gently pull the white chocolate down to create a "ghost" shape (see above photo). Add eyes using sprinkles or melted chocolate.
Chill. Cut into bars.
And DONE.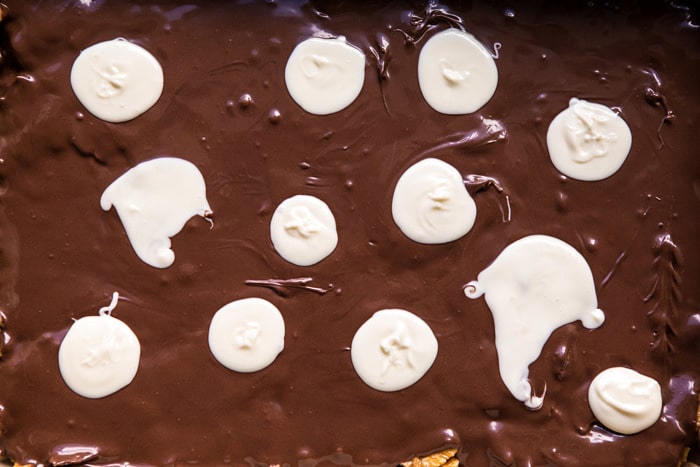 See? Pretty easy, right?
And don't stress about making these perfect. The more imperfect, the spookier they look.
Also, you will notice that my ghosts do not have mouths. I wish I could say this was intentional, but it was really just a careless mistake on my part. You know what though? I kind love these little guys just the way they are. They're nothing close to a perfect looking ghost, but each is unique, ghostly, and fun.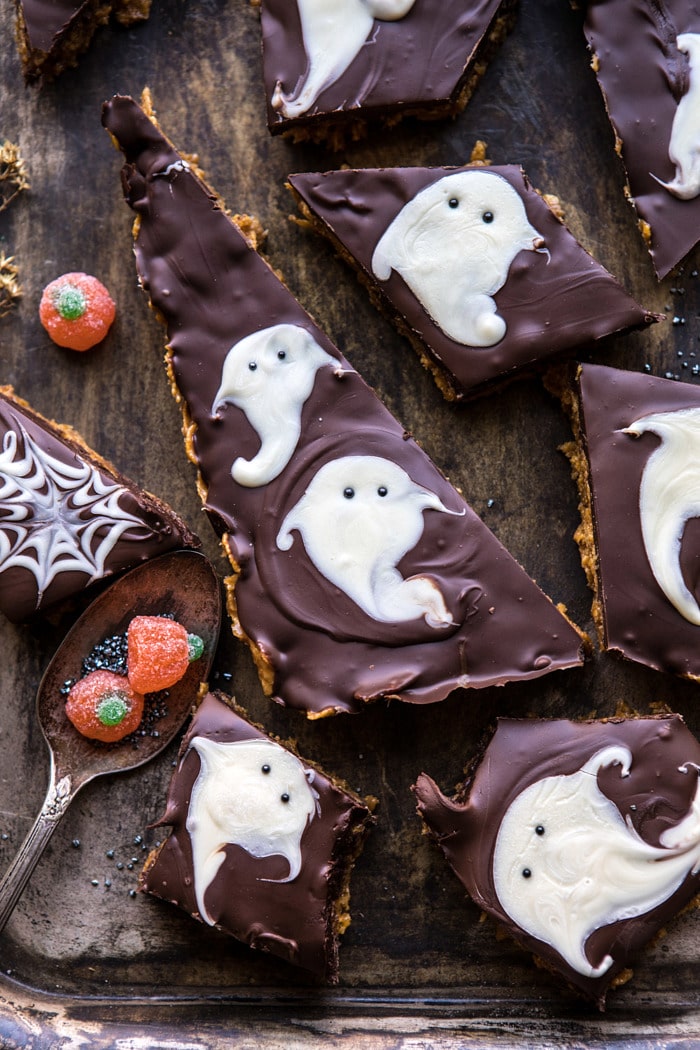 Honest truth? No matter how much I would LOVE to be skilled in decorating beautiful desserts, it's not my talent. I can't pipe frosting all that well, I can't make perfectly frosted sugar cookies with royal icing, and I am not going to spend five hours trying to make my Halloween treats look perfectly "spooky".
Nope, I'm not a pro at decorating and I'm fine with that. Over the years I've learned to love and embrace the "imperfect" look. The awesome thing about Halloween treats is that the more imperfect they look, the better.
It's all about that messed up, spooky vibe, so embrace your mistakes, especially with these bars. No one ghost should look another.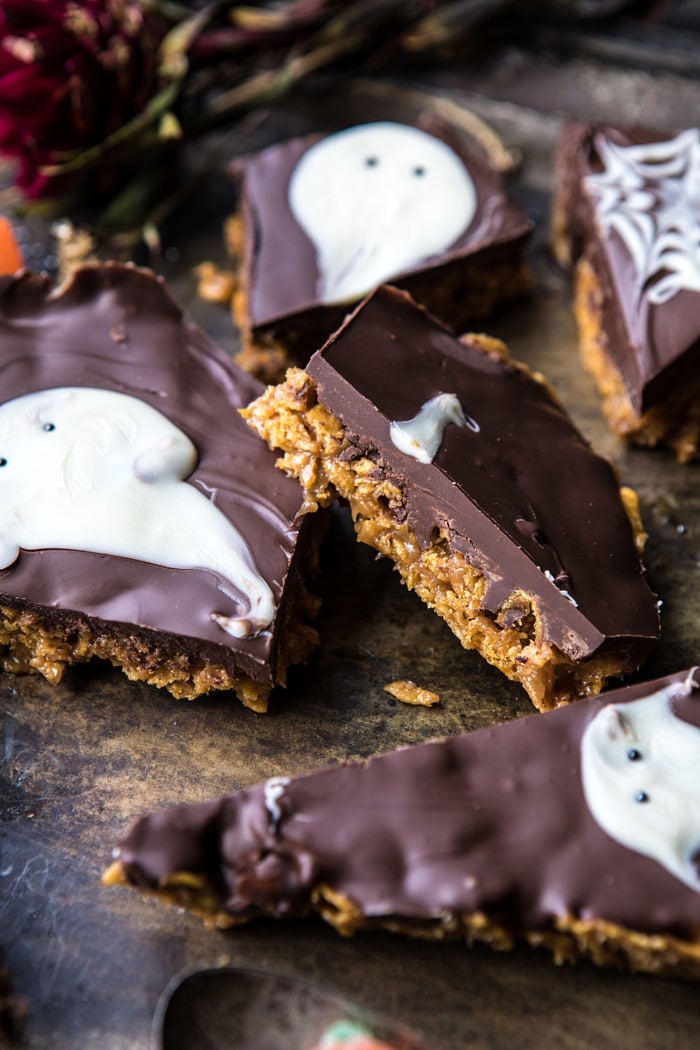 Above all, have fun and be creative with these! These bars are great for making with kids, and enjoyed by EVERYONE. You can pack them up and take them to the school Halloween party, or serve them at your adult filled Halloween bash.
Whatever route you go, these ghostly bars will be loved and devoured. Hence, making a double batch is highly recommended.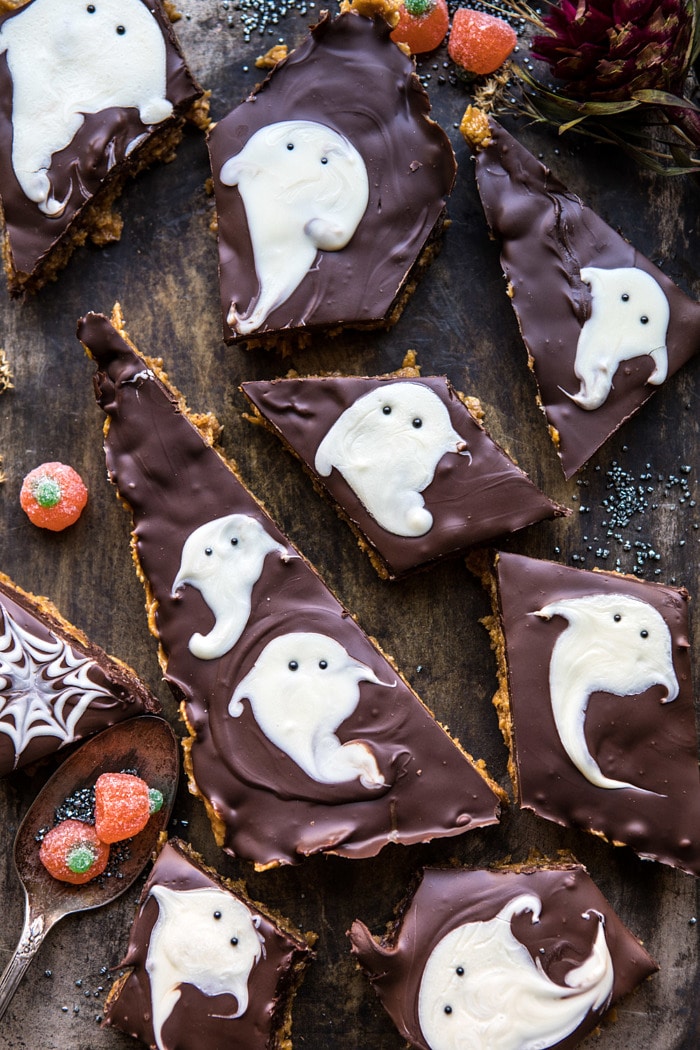 Lastly, if you make these spooky chocolate peanut butter bars, please be sure to leave a comment and/or give this recipe a rating! Above all, I love to hear from you guys and always do my best to respond to each and every comment. And of course, if you do make this recipe, don't forget to also tag me on Instagram! Looking through the photos of recipes you all have made is my favorite!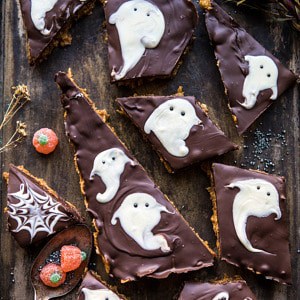 Nutritional information is only an estimate. The accuracy of the nutritional information for any recipe on this site is not guaranteed.
The Recipe
BOO! Chocolate Peanut Butter Bars
These bars require no oven time, use just 6 pantry staple ingredients, and take almost no effort to make. Best part? They're fun to make no matter what your age!
Prep Time 20 minutes
Cook Time 10 minutes
Total Time 30 minutes
Servings 16 bars
Calories 296 kcal
Instructions
1. Line a 9x13 inch baking pan with parchment paper.

2. In a large, microwave safe bowl, melt together the honey, maple, and peanut butter until smooth, about 30 second to 1 minute. Stir in the corn flakes, tossing well to combine. Spread the mix out into the prepared pan, packing it in tightly.

3. Melt the chocolate chips and pour the melted chocolate over the bars, spreading in and even layer.

4. To make the ghosts. Melt the white chocolate, then spoon a small dollop (1 teaspoon for small ghosts and 1 tablespoon for large ghosts) of white chocolate onto the chocolate, making sure each ghost is 1 inch apart from each other. Using a wooden skewers or the end of a skinny spoon, gently drag the white chocolate into a ghost shape, don't worry about making these perfect, the more imperfect they look, the better.

5. Insert 2 small sprinkles for eyes or use additional melted chocolate.

6. Transfer the bars to the fridge and chill 1 hour or until set. Using a sharp knife, cut around the ghost, creating irregular shapes. Keep in the fridge until ready to serve. BOO!
Recipe Notes
*These bars are GOOEY and we like them this way. If you'd like a bar that's less gooey, reduce the maple 1/4 cup and use 1/4 cup brown sugar.