Balsamic Peach Basil Chicken Salad with Crispy Prosciutto.
SO HEY! Meet your new favorite late-summer salad!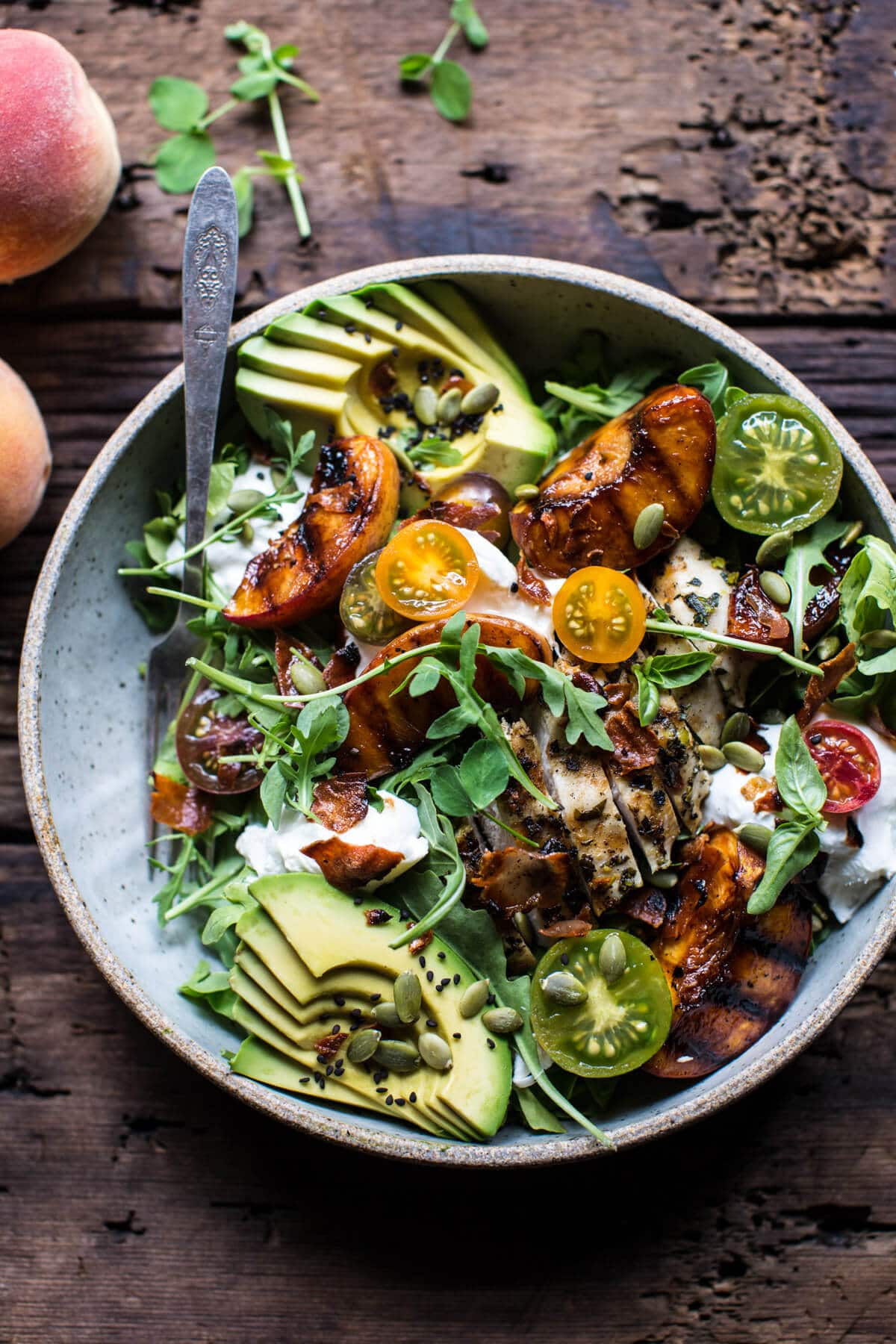 It's packed with peaches, basil and crispy prosciutto… and BURRATA.
Um, yes please!
I think I've said this before, but when I do salads, I do them up, big and hearty. Nothing wimpy, unless they're meant for snacking or as a side, and even then, I still load them up with all the good things.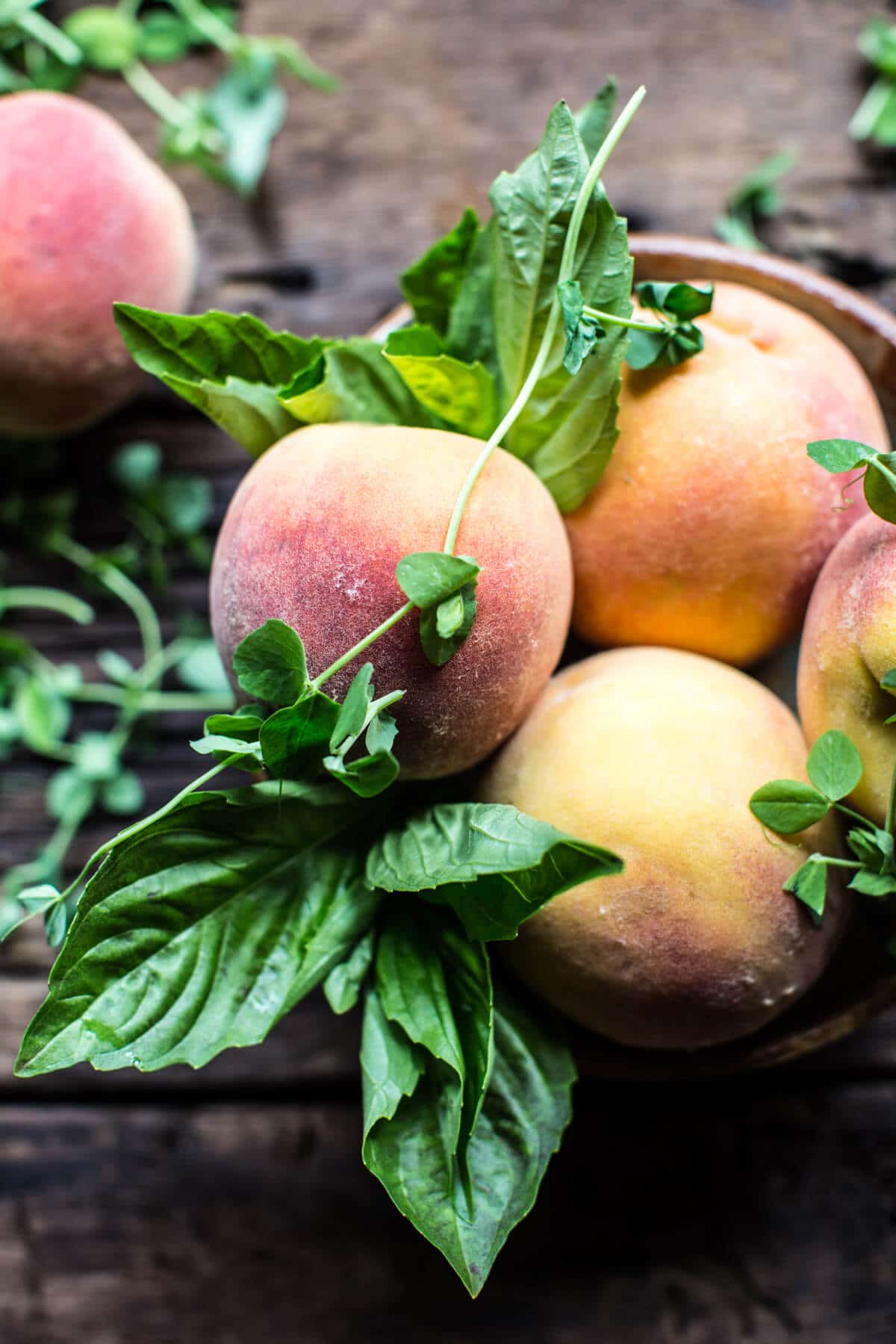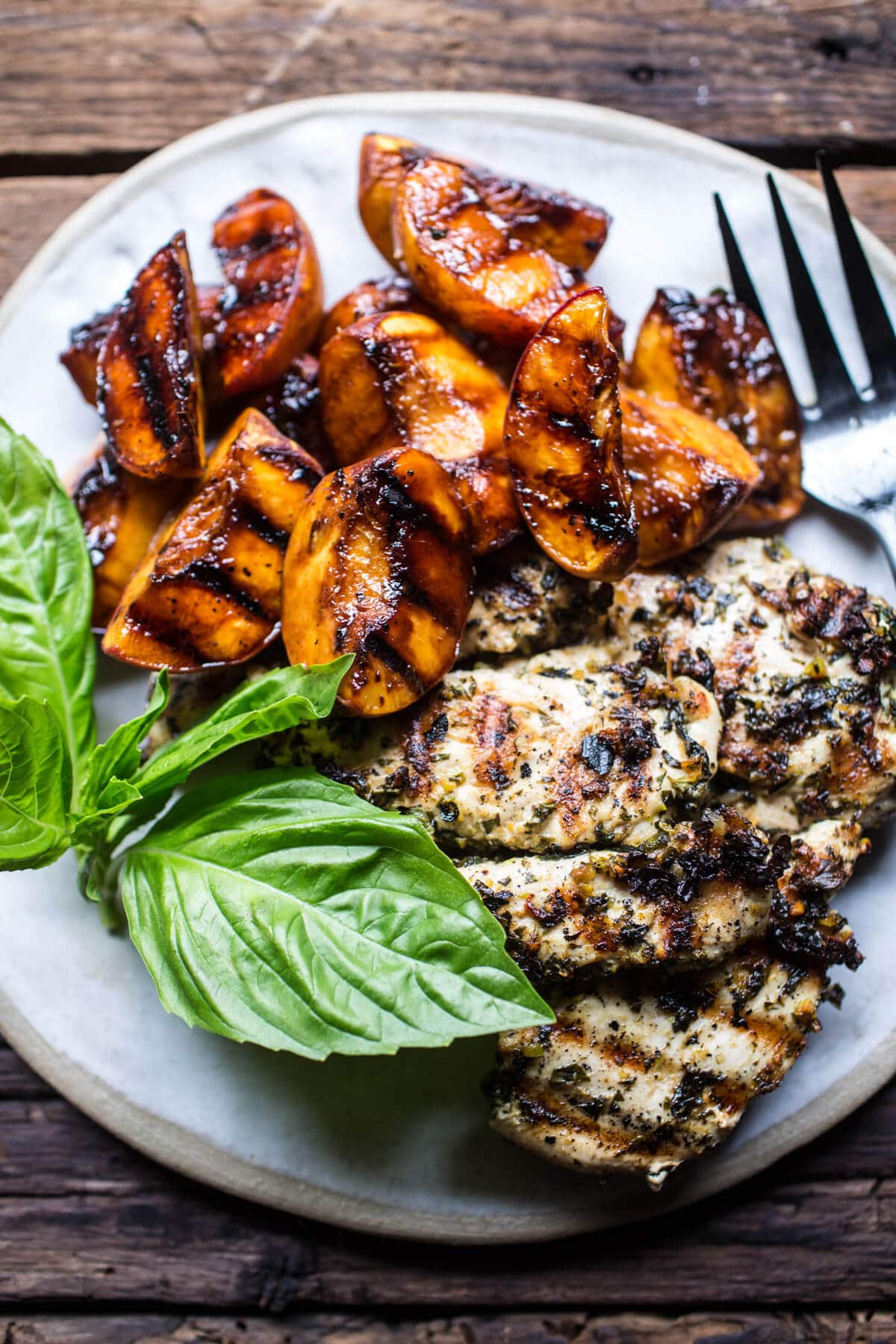 SO, pretty sure I never mentioned this, but last week I made a little goal for myself. The goal was to use up everything I had in the fridge and or freezer before I went to the grocery store. Like everything.
You see, my town has been PACKED with people all summer long and getting around is just not fun. You're better off walking or riding your bike. Of course that's kind of hard to do when you have loads of groceries. So because of this, coupled with the fact that my personal shopper…aka my dad (for real, he's the best), was out-of-town, I decided that the grocery store was just not on my list of places I wanted to go. Surprisingly, I stuck with my goal all week-long… with the exception of quickly running down to my local farm stand for fresh heirloom tomatoes and peaches mid-week. Don't judge, I NEEDED those tomatoes and peaches. I mean, it's summer and I just could not deprive myself. Tell me you get it.
Cool!
Anyway, all of my upcoming blog posts were made with the contents of my fridge from last week, and oddly I am so excited about each and every recipe. Granted, my fridge was pretty well stock before I came up with this little goal, so really, it wasn't THAT hard, and I enjoyed having fun with the ingredients I had on hand.
Also, this goes to show you that, if possible, having a well stocked pantry and fridge is always, ALWAYS the way to go. Hello to a fridge full of cheese + fresh produce and a pantry stocked with grains, nuts, seeds, chocolate and basically everything else that's not perishable. Okok, I know that not many people cook as much as I do… and that I'm also very fortunate to have the means to stock my pantry 🙂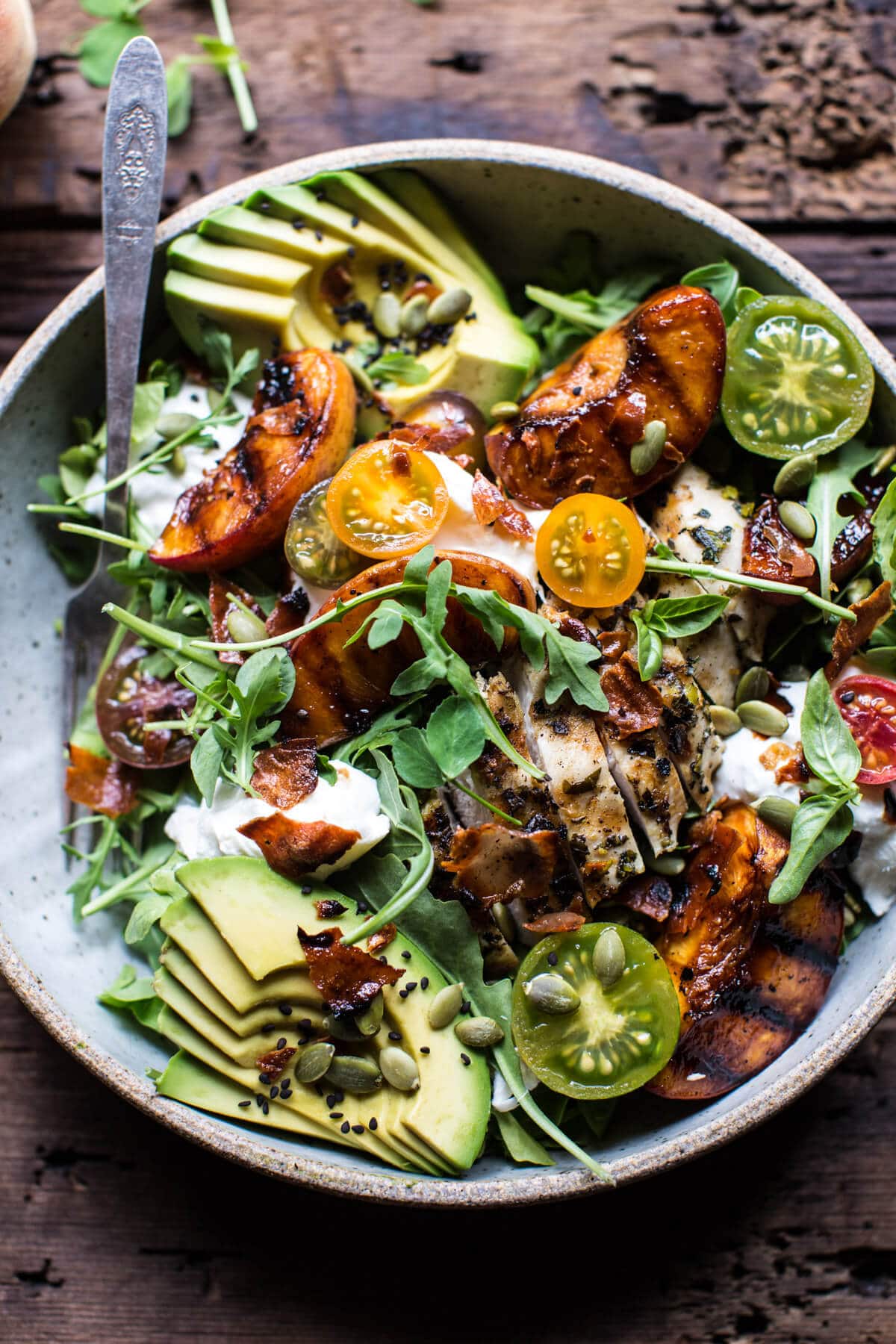 So, this pretty and delicious balsamic peach basil chicken salad is the outcome of having too many peaches, some chicken that needed to be cooked, and a ball of burrata that honestly just had this salad written all over it 🙂
In an effort not to turn the oven on, this entire salad is made on the grill and ready for eating in about thirty minutes. It's full of protein, greens, and fruit, and is great both warm or cold (although, I prefer it warm!). Can you say, YESS.
In all seriousness though, this salad is pretty awesome. I LOVE the combo of peaches, balsamic and prosciutto…especially crispy prosciutto… SOO good. And um, that grilled basil chicken?!? Summer chicken perfection right there!! OK, and if you're just not in a grilling mood, and you don't care about having to turn your oven on, you can totally roast both the peaches, chicken and prosciutto all together on ONE baking sheet and call it a day. I'd say about twenty to twenty-five minutes at four hundred degrees F. for the chicken and peaches, then add the prosciutto during the last five minutes of cooking. Easy peasy and a great option to transition this meal into fall come mid September.
Well OK, awesome! 🙂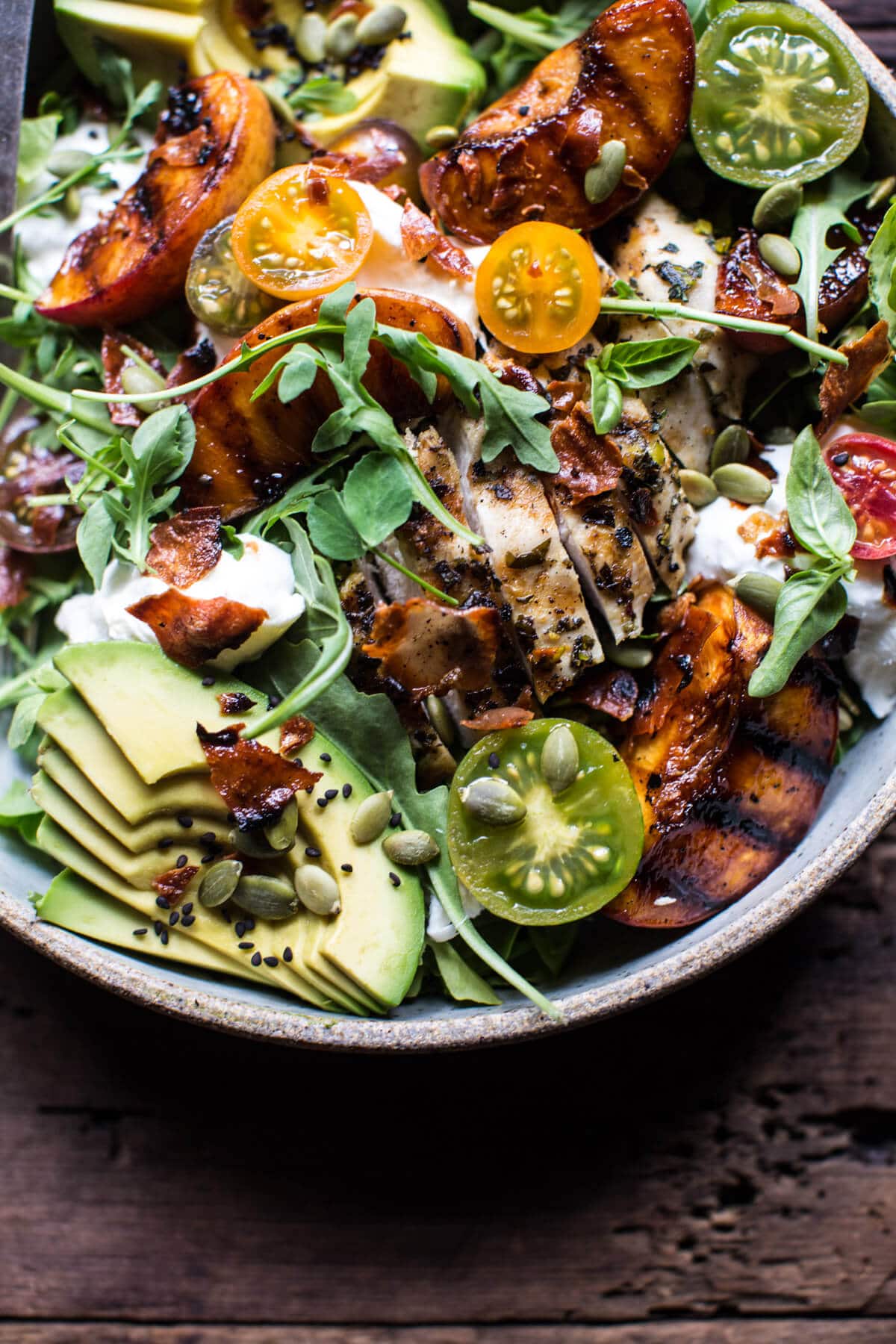 Lastly, a big piece of toasty bread, or a pile of fries, is ideal atop this salad. Gotta have those carbs…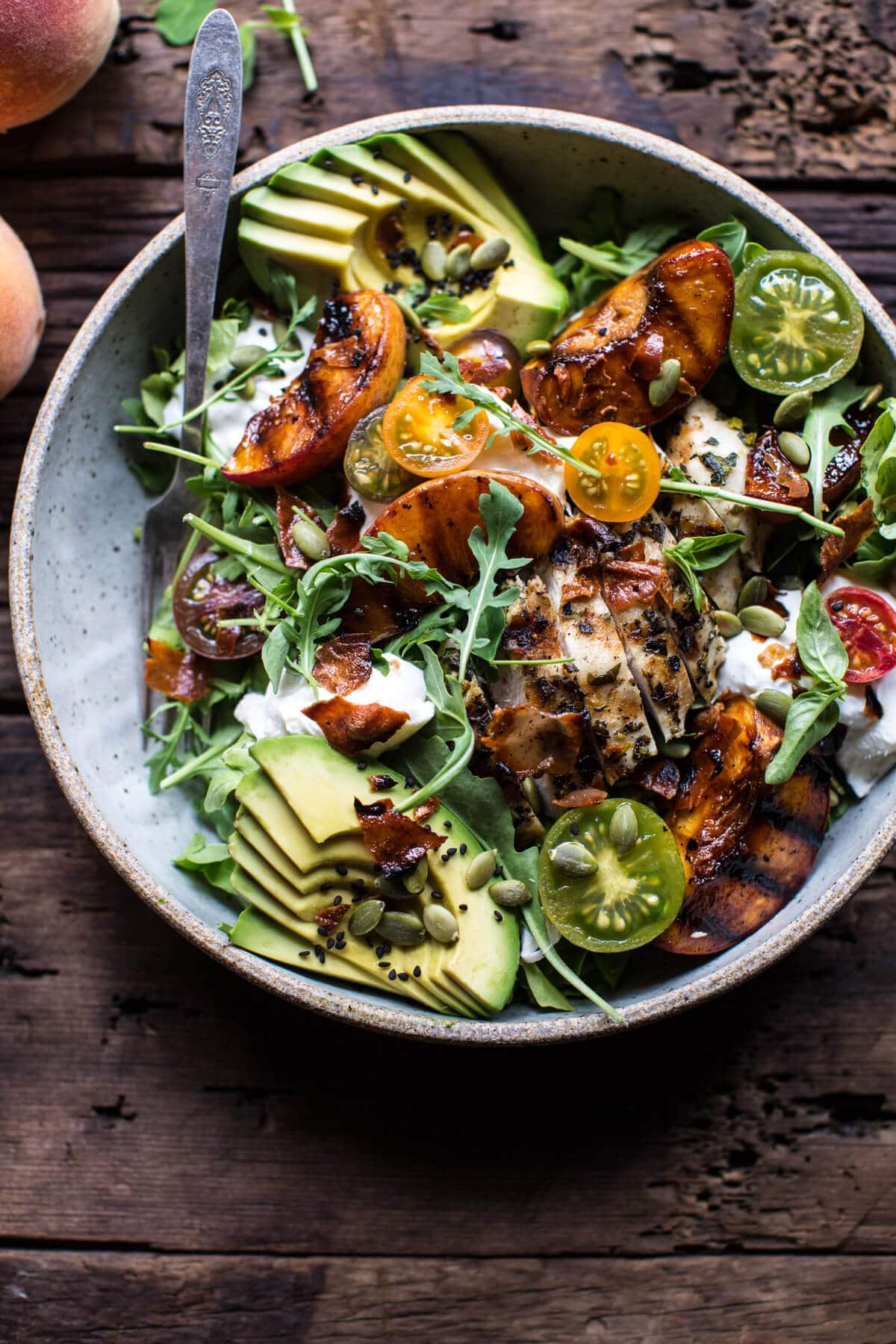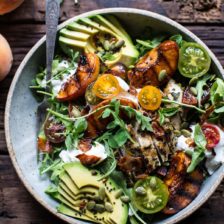 Nutritional information is only an estimate. The accuracy of the nutritional information for any recipe on this site is not guaranteed.
The Recipe
Balsamic Peach Basil Chicken Salad with Crispy Prosciutto.
By halfbakedharvest
Course: Salad
Cuisine: American
Keyword: basil, chicken, peach, prosciutto
SO HEY! Meet your new favorite late-summer salad!
Prep Time 15 minutes
Cook Time 15 minutes
Total Time 30 minutes
Servings 4 Servings
Calories 667 kcal
Ingredients
4 ripe peaches quartered
1/2 cup balsamic vinegar
1 tablespoon honey
2 pound boneless skinless chicken breasts (about 1 )
3 ounces thinly sliced prosciutto
1 tablespoon olive oil
2 tablespoons fresh chopped basil
1 tablespoon fresh chopped oregano
Kosher salt + pepper
6 cups fresh arugula or baby spinach
1 cup cherry tomatoes
4 ounces gorgonzola cheese crumbled
6 ounces fresh mozzarella or burrata cheese torn
1 avocado sliced
1/3 cup toasted seeds (such as sunflower pumpkin, sesame)
Instructions
Add the peaches to a bowl and toss with the balsamic vinegar and honey.

Add the chicken to a separate bowl and toss with the olive oil, basil, oregano, salt + pepper.

Preheat your grill, grill pan or cast iron skillet to medium high and brush the grates with oil.

Remove the peaches from the balsamic mix and grill the for 2-3 minutes or until light char marks appear, flip and grill another 2-3 minutes. Remove from the grill. Reserve any remaining balsamic mix for the vinaigrette.

To the grill, add the chicken and and prosciutto to grill for 5-8 minutes per side or until the chicken is cooked through and the prosciutto crisp. Remove from the grill and let rest 5-10 minutes. Thinly slice the chicken and crumble the prosciutto.

In a large salad bowl, combine the arugula, tomatoes and gorgonzola. Top the salad with grilled peaches, chicken, burrata or mozzarella, and sliced avocado. Sprinkle the toasted seeds all over the salad. Serve the salad alongside the balsamic vinaigrette (below).
Balsamic Vinaigrette
Grab any remaining balsamic mix from when you tossed it with the peaches. To that, add the olive oil, 1/4 cup balsamic vinegar, basil, mustard, salt and pepper. Taste, and adjust seasonings to your liking. Serve alongside the salad.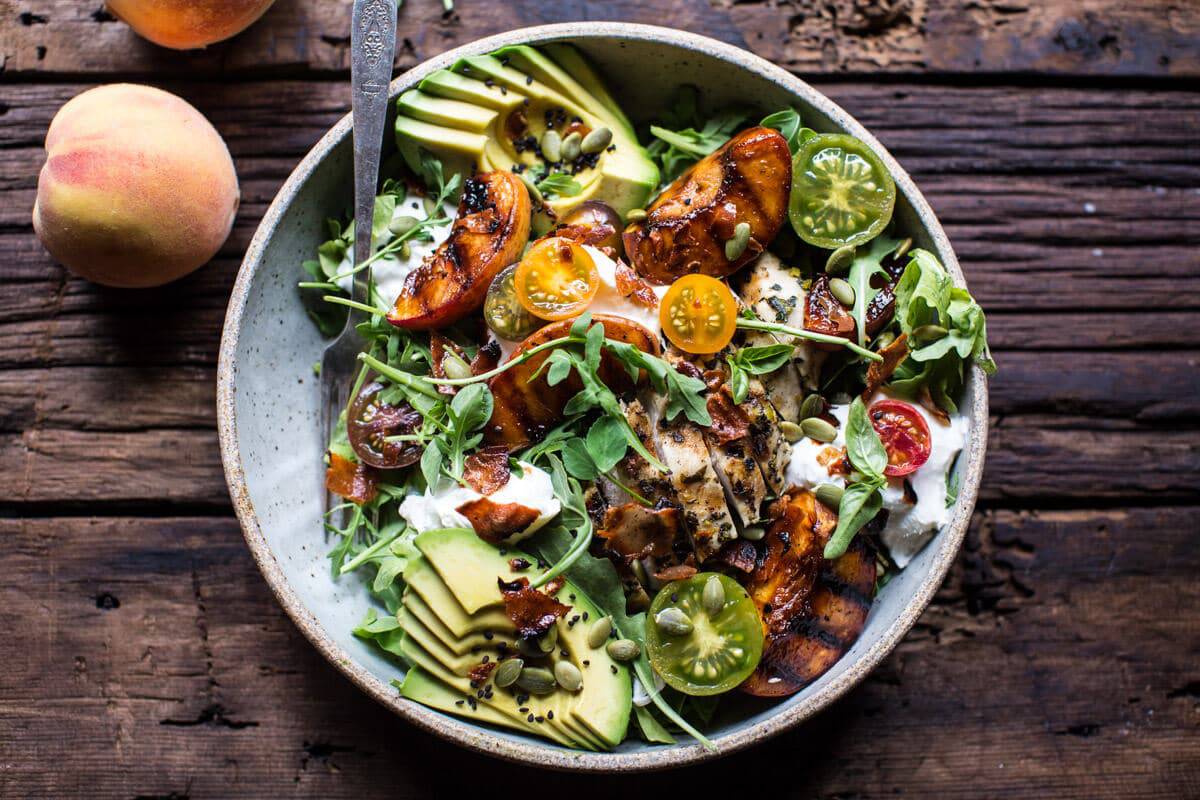 Just sayin. ?
PS. Don't forget to vote for your favorite bloggers for the Bloglovin 2016 awards…Half Baked Harvest is nominated for best food blog, yeah!!
PSS. I've also been nominated for the SAVEUR Magazine 2016 Blog Awards for Most Inspired Weeknight Dinners! I would be so grateful if you would go and vote for your favorite blogger. You can vote everyday from now until August 31st! ?